2020 Letter to Coaches Who Still Don't Understand Benefits of Beach Soccer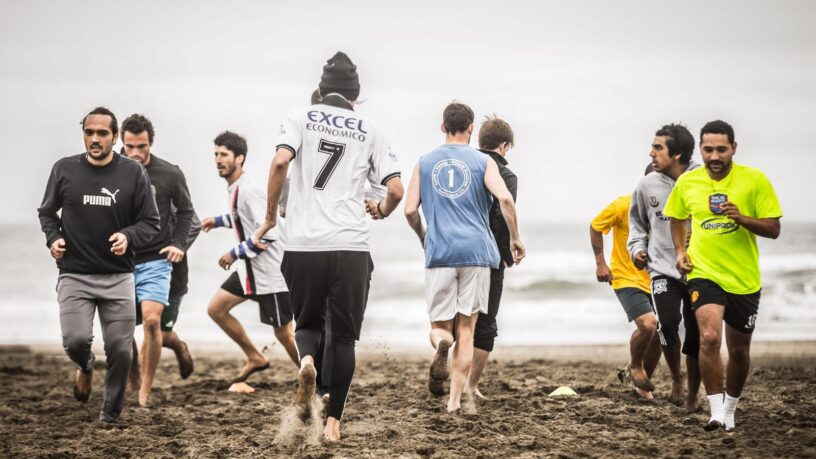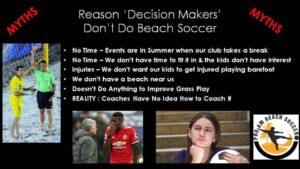 Dear Director & Coach,
My letter to you today is to help you seen the forest through the trees.  I have been made aware you have chosen to limit exposure to beach soccer due to thinking it either causes too many injuries, there is no time, doesn't relate to the grass game, or you don't have a beach.  This is a friendly introduction to why those assumptions need to be reexamined.  This will also barely scratch the surface of why your player's feet should be in the sand and should be part of your curriculum or training program.
Injuries are prevented & rehab is enhanced by sand!
Let's talk about injuries first, since every major club in Europe, including Real Madrid, Barcelona, & Bayern Munich are using beach not only to prevent injuries but to have players recover quicker, for more than a decade.  For example, Valdebedas, Real Madrid, was inaugurated in 2005, and with it during the time of the Gallaticos, they installed not only a beach soccer field, but a footvolley court alongside their main training ground.  I saw it with my own eyes in 2005.
We now see, readily available on YouTube, Bayern & Barca TV routinely showing they followed suit.  Clubs for more than a decade recognize the benefits with some having moved "away from gyms & weight rooms" completely for the greater well-rounded benefits of sand.  The best clubs in the world are using it to prevent and recover from serious injury!
The leading gripe by coaches is about broken toes, but this is more about technique, and the injury is more accurately called turf toe.  This accounts for a vast majority of all injuries found in competitions.  It's about not teaching proper technique in the sand, which serves well, to the lessons we should be teaching our players on hard surfaces.  Proper technique translates to their boots & eliminates it as a reason.
Improves Shooting and Concentration on the Technique
As coaches, we realize the best shooting technique is to press your toes into the bottom of your boot for a better-locked ankle and consistent striking contact point.  Most coaches cannot police this unless they have barefooted shooting as part of their practice.  Let's be honest, most coaches don't teach it, let along police it.  In sand, if you don't make a "fist" with your toes, essentially pressing the toes back as you would in your boot, then the drag of the big toe can cause turf toe, the leading injury and one which coaches' against beach soccer point to most.  But why be against something so beneficial.
Again, teaching proper technique in the sand they don't get injured, and can then be brought back as a reminder to do so, in their boots, with automatic positive results.  Reps in the sand provide results in the grass.  It's not rocket science and the upside is more than tremendous going from shooting on an inconsistent, uneven, at time unpredictable surface, needing superior concentration and evolution in the way one looks at…and strikes the ball.  Grass striking is child's play after the sand.
It Simply Makes you a much more Skilled Player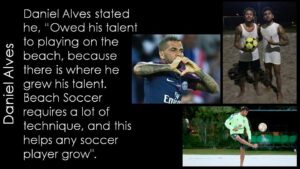 In regards to relating to the grass game, let's make this point in the simplest of terms.  Aside from the various types of ball mastery, you can't really teach on hard surfaces we will focus quickly on "Running in High Heels".  Educators spend so much time talking about always doing things with the ball, but then we have so much time spent on plyometrics, speed ladders, and other things to get players more on their toes.
To simply play in the sand with the technique like "Running in High Heels" eliminates almost any need for plyo's as players naturally move to toes after developing the very muscles people being pounded on hard surfaces.  The overall scientifically proven results provide less impact and strain on joints and tendons during this much more reliable option to enhance speed, endurance, and jumping technique while always involving the ball if desired. Playing in the sand gives you time back to be with the ball.  That is a proven fact.
Coaches Lose Time not Focusing on Sand for Development
Time is relative.  Is it not enough time to expedite quicker results through sand, time to find the beach volleyball court to utilize as your beach, or simply you plan to take your time off in the summer when most of the competitions are taking place? So, why waste time in the sand for nothing?  It is never for "nothing".  None of these are relative to the positive impact on time received by putting their feet in it.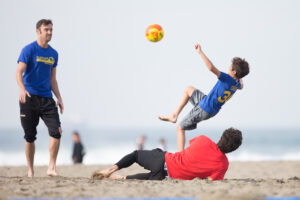 Quicker and better results are seen clearly in studies by Dawson & Pinnington (2001 & 2005) as well as Martyn J Binnie (2013) at Western Australia University showing 1.5 times faster aerobically and 2.5 times faster anaerobic achievement.  This is further demonstrated in Impellizzeri FM study with English Premier Players (2008) concludes: Plyometric training on sand improved both jumping and sprinting ability and induced less muscle soreness.  To be more accurate you are losing time by not taking advantage of its impacts on improvement in the sand.
Every aspect of what you do in the sand whether teaching the new techniques, skills, or simply working to get stronger and faster is completely transferable to grass.  It is clear over time, like futsal, the benefits of sand will be recognized.  But, like the best clubs already doing it, those who take advantage will have the highest results as proven by facts, studies, and simple logic.
We hope this allows you to know the most common reasons to not put your player's feet in the sand should be reexamined.  We also understand a great number of you just don't understand how to train or coach it.  The idea of this letter is to give you a chance to not be on the wrong side of information and to dispel myths you may hold.  If you know futsal you are ahead of the game tactically.  But, if all you can see are the hard-surfaced aspects of our game as advantageous, you continue to trail behind those who can see the light beyond the tree line.
Please don't refrain from contacting us for help.  We will show you the path and how to tackle this exciting opportunity.  Just find your way to YouTube and "YourBeachSoccer" and it will begin your education.
Sincerely,
Those who see the Forest!
Guaranteed Improvements:
Dealing with balls in flight (Especially in an age of no heading for 12u & younger)
Lifting, scooping, passing outside of the foot
Striking off ground & air (Concentration, slowing the ball movements, stronger & reliable locked ankles)
Running technique
Running speed (1.5x faster)
Running endurance (2.5x faster)
Durability (See Walter Payton & Sand Training)
…so much, much, more…
If the best in the world using it on an ongoing basis, shouldn't it be considered?
© 2018 US Beach Soccer National Championship, All rights reserved.